Please note that from 6pm on Friday 23rd October to Monday 9th November, our facilities will be open to liveaboard berth holders only. If you have any queries, please contact us on 01646 696312.
Please note that from 6pm on 23rd October to 9th November, our facilities will be open to liveaboard berth holders only. If you have any queries, please contact us on 01646 696312.
People choose to live on a boat for a number of reasons. For some it could be a lifelong dream, for others it could be a way of saving to buy a house, or it could even be an opportunity to live a simpler life by downsizing for a long and relaxing retirement. Whichever applies to you, we welcome liveaboard berth holders at Milford Marina and we won't charge a premium if you choose to live on your boat full time. Our liveaboard community is strong, and our residents live on a wide variety of vessels, from yachts and motor boats, and even converted tugs.
For many of our liveaboards, making the decision to live on a boat is one of the best they have made. Even though there is some housekeeping to do before you make a permanent move to a floating home, including notifying Pembrokeshire County Council, HMRC and the DVLA, it will be worth it. You will be welcome to use our address as your own, and we won't charge an admin fee for handling your post at the Marina Office.
Liveaboards here will be in good company, with almost 30 full time 'neighbours' and the company of 300 long term and visiting boat owners. When you choose to live on your boat at Milford Marina, you will enjoy the same benefits as 12 month berth holders at no extra charge.
We take your safety and security seriously, so you can rest assured that you will be covered by CCTV, key coded access gates to the pontoons, and the Marina Team keeping a watchful eye over your boat 24 hours a day. For your comfort, our recently upgraded toilets, showers and laundry facilities are conveniently located at the Marina Office, and electricity and water hook ups are available at all berths. We have waste disposal facilities for berth holders on site too.
The local area is a hub for sailing and boating enthusiasts, with a number of local yacht clubs that run an active cruiser racing scene, and waterway restaurants accessible by boat through the summer season. For boat owners, Milford Marina is a great base with marine service businesses conveniently located on site, to help with the ongoing maintenance your boat will inevitably need.
Being right at the centre of Milford Waterfront, you'll be spoilt for choice for places to eat with a great selection of cafes and restaurants, and you're only a short walk away from the town centre and Havens Head Retail Park, which is home to Tesco, Boots and other convenience stores.
Milford Haven Train Station has daily direct services to Cardiff and London, and there are two bus stops from which you can connect to the county. The wider town has all of the essential services a resident could need, including a post office, doctors' surgeries, pharmacies and dentists, as well as a library, leisure centre and the Torch Theatre – one of only 3 producing theatres in Wales.
Milford Haven has a fascinating history, from its establishment as a Quaker-whaling station to becoming the energy capital of the UK, and lots more in between. A visit to Milford Haven Museum (open Easter to October) is a great way to learn more about our town.
Liveaboard berth holders also enjoy free parking*, 10 weeks free storage ashore in the Milford Marina Boatyard, and invitations to monthly social events which take place at a different Milford Waterfront venue each month.
If you're considering living on your boat, Milford Marina is a great choice. Please contact us if you have any queries - we'd be happy to help you plan to make your dream a reality.
*We have free, unrestricted parking for berth holders on Mackerel Quay as well as short stay spaces where Milford Marina customers can park for up to 1 hour, just outside the Marina Office if you need to pop in – please remember to collect your Milford Marina Berth Holder Parking Permit when you start or renew your berthing contract to avoid any potential fines from parking in these spaces without a permit. Please note that overnight camping in caravans or motorhomes is not permitted here.
Liveaboards are warmly welcomed and we don't charge a premium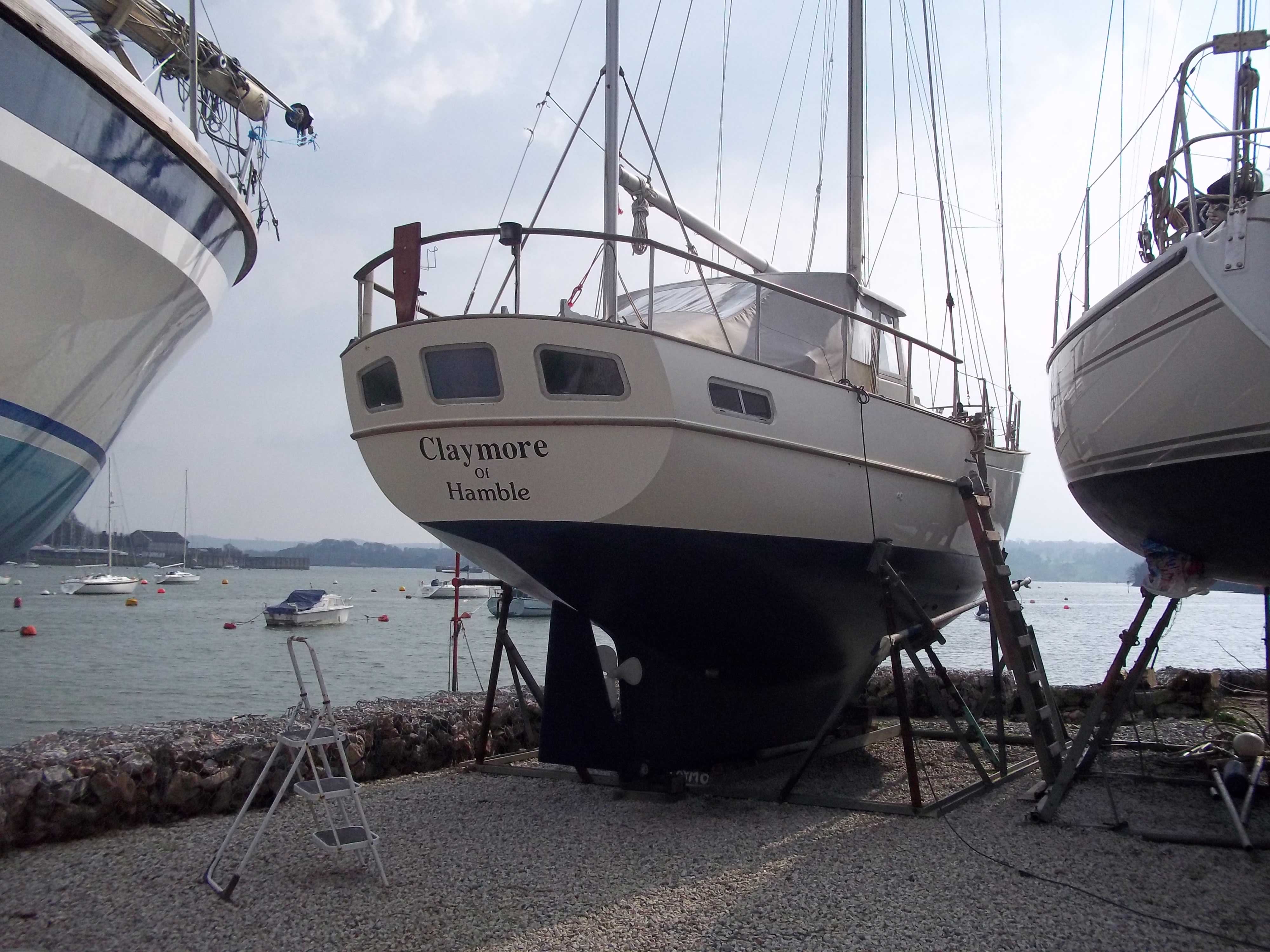 The decision to have my yacht (Claymore of Hamble) delivered to Milford Marina was a no-brainer. The staff are so friendly and helpful. Facilities are excellent. From the wide pontoons, with water and electricity available to all berths, to the spotlessly clean showers, toilets, and laundrette. There is a chandlery, large boat yard, haul-out facilities, free Wi-Fi, 24 hour security, parking. The waterfront is lovely and clean, with many interesting shops, restaurants and also hairdressers. Further assorted shops, eateries, post office, doctors, dentist, and rail link are all within easy walking distance…Milford Marina certainly ticked all the boxes. I have only been living here for three weeks and already it feels like home. I have everything I need here (or nearby) with staff for whom nothing is too much trouble and fellow liveaboards who always have time for a chat or an exchange of knowledge.
Quick Quotation
Simply enter your boat length to receive a no obligation quote instantly.
Sign up!
For berthing and storage promotions, events and boating news in our regular newsletter.