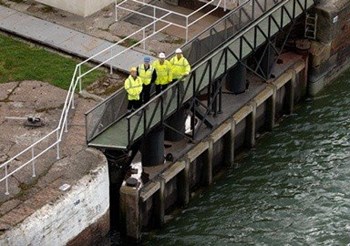 Works forming part of the Port of Milford Haven's £6m project to install a set of new lock gates and breathe fresh life into Milford Marina and Docks are about to begin following the award of civil and engineering contracts.
The project, which is the biggest investment of its kind to happen at Milford Docks for more than half a century, will see new gates set inside the existing lock to allow improved access for marina and inshore fishing customers.  It will significantly reduce the locking time and provide an increased number of locks within any 12 hour period making Milford Marina one of the most accessible locked marinas anywhere in Britain.
Work to build new gates in the lock is part of Visit Wales' Coastal Tourism Project, part funded by the European Regional Development Fund through the Welsh Government, to encourage tourism along the Welsh coastline.
Commenting on the project, Kevin Hobbs, Short Sea Director for the Port of Milford Haven, said: "We're really excited about the project and are looking forward to getting started.  It's a great example of how the Port's investment, coupled with support from the European Union can make a huge difference for people in Pembrokeshire. What's even more exciting is that this is just the first phase in a wider investment programme planned for Milford Docks and Marina that's beginning to gather pace.
"The programme, referred to as the Milford Dock Master Plan, will transform the area to attract more visitors and boost economic activity.  New shops, a multi-screen cinema, open spaces for events, additional recreational activities and commercial fish processing units as well as more berths and facilities for the marina, are all part of the mix.  It's hoped that this will enhance Milford Haven's status as a vibrant centre for marine leisure and tourism within this highly popular and beautiful waterway."
"It is our absolute intention to minimise disruption to our loyal customer base during this development.  We are not anticipating any more than five days of total lock closures but there may be some amendments to locking times at the marina." 
Civil contractors will be on site setting up a works area adjacent to the lock gates towards the end of May.  The Port will continually liaise with its customers and nearby residents through leaflet-drops as the project develops.  Important notices will also be made available on the Marina website www.milfordmarina.com and Facebook page www.facebook.com/MilfordHavenWaterway .
-ENDS-

Photo caption: The project team from the Port of Milford Haven and Atkins on the existing lock gates at the entrance to Milford Docks
Notes to Editors:
For further information please contact Adrian Lort-Phillips at Radiant Media on 01646 650195 or 07774 468273 or email pressoffice@radiantmedia.co.uk
Port of Milford Haven 
The Port of Milford Haven is responsible for the biggest port in Wales, and is the third largest port in the UK.  Each year it handles around 29% of Britain's seaborne trade in oil and gas and is widely recognised in the industry as the energy capital of the UK.
The Port, along with the cluster of energy-related businesses along the Waterway, is a key driver of economic activity in Pembrokeshire, attracting inward investment and supporting over 4,000 jobs.
The Port of Milford Haven also owns and operates Pembroke Port and Milford Dock.  Activities such as cargo handling, ferry operations, fish landing and cruise calls as well as a first class marina are spread across these two sites.
One of the most prominent on the West Coast, the Port is in the heart of the Pembrokeshire Coast National Park, the only Coastal National Park in Great Britain. It is marked as a Special Area of Conservation (SAC) and has many areas designated as Sites of Special Scientific Interest (SSSI).
The Port of Milford Haven is a trust port – an independent, commercially run organisation that has statutory responsibilities governed by its Acts, to maintain and improve navigation and the provision of Port and Harbour services and facilities.  Additionally, the Port provides significant financial and in-kind support to a wide variety of local causes.  All profits are retained within the business to fund these objectives.
For further information, visit www.mhpa.co.uk