Congratulations to Michelle Pugh for winning our Photo of the Month competition for May with her photo titled "VE Day Moon".
Michelle just happened to look out of her window and was met with a scene so peaceful, it was as if a minute's silence was taking place to commemorate V.E Day on Friday 8th May. Michelle couldn't help but capture the beautiful bright moon shining over Milford Marina.
Each month we encourage berth holders, visitors and photography enthusiasts of all abilities to enter their photos to our Photo of the Month competition, with a focus on capturing the spirit of the Milford Haven Waterway, including the scenery, wildlife, coastline and sunsets, the boating community, and Milford Marina itself.
If you have any pictures that you'd like to share that you have previously taken, or perhaps you've taken some lovely shots whilst out walking, we'd love to see them all!
Our June competition is now up and running and it's super easy to enter. For your chance to win a voucher to spend at Milford Waterfront, all you need to do is upload your photo from your computer, mobile or straight from your Instagram account to our website.
All visitors to the competition page are then able to view all entries and vote for their favourite photo, good luck everyone!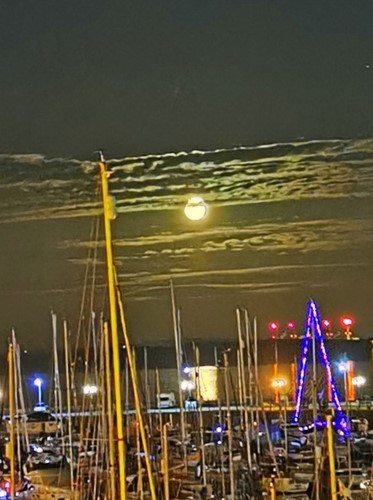 2020 Photo of the Month Winners
Check out the gallery featuring the winning photos from 2020.
Be the envy of your friends
Enter our Photo of the Month competition to be in with a chance of winning a voucher to spend at Milford Waterfront and a bag of Milford Marina goodies!