Milford Marina 51o42.25N 05o02.02W
 


Standard Port - Milford Haven (-0500 Dover)

Milford Marina is superbly located within the Milford Haven Waterway on the Pembrokeshire Coast. Access to the Marina is via the entrance lock and with recent investment in lock infrastructure, accessing Milford Marina has never been easier. 
Navigating to Milford Marina
For tides, refer to the Port of Milford Haven Tide Tables and consult Admiralty charts 1478, 2878, 3273, 3274, 3275, and Leisure Charts SC1478, SC2878, Imray 2600.11, C60.
For information on the Milford Haven Waterway, refer to the Leisure User Guide. Milford Haven Port Control Centre can be contacted on VHF channel 12 (call sign 'Port Control'). All vessels with a LOA of 20m and over must report to Port Control as required by the Port of Milford Haven General Directions.
Access to the dock basin is via the entrance lock. Lock times are published in advance on our website as well as displayed in Marina Control and on marina notice boards. 
During the 'freeflow' period - which operates two hours before high water - up until high water, vessel movement is generally unrestricted. Locking is available from Marina Control. Whilst every effort is made to adhere to the published lock times, mechanical failure, operational requirements, severe weather and/or planned maintenance may affect the programme. The frequency of lockings increases during the main season. 
Milford Docks Pier Head can be contacted on VHF channel 14 (call sign 'Pier Head') and to be allocated a marina berth contact Marina Control (call sign 'Marina Control') on channel 37.
Lock Procedure and Etiquette
All traffic using the lock is controlled by the Pier Head staff and it is essential that they are contacted via VHF Channel 14 before leaving the berth or entering the dock basin. Call sign 'Pier Head'. (Tel: +44 1646 696310).
During all lock operations, vessels must moor alongside the pontoon/fenders provided, as directed by the duty lock keeper.
When the lock cycle is completed, allow the vessels ahead and/or outside you to leave first.
Moor as far forward on the pontoon as possible. If the pontoon is full, then it may be necessary to raft up, so fenders are recommended on both sides of your vessel.
All the vessels in the lock are to be secured with breast lines and springs.
Please observe the 'Dead Slow' speed at all times and remain vigilant when entering or leaving the lock.
All outbound locks must be booked a minimum of one hour in advance.
Lock Operation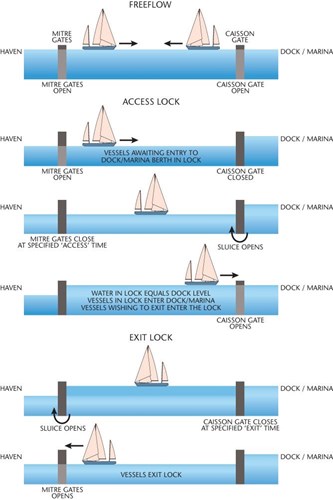 Need further information?
We're here for you 24/7/365.