Operating on a 24-hour lock schedule, Milford Marina grants vessels easy access to and from the marina, in as quick as 10 minutes. The marina lock gates are manned 24/7 by the Milford Marina lockmaster "Pier Head" (VHF Ch.14, call sign: Pier Head, Tel: +44 (0)1646 696310) and assistance will be provided when required.
Full published schedule of lock times can be seen below.
Please note that the published schedule is subject to change and may be affected by mechanical failure, operational requirements, severe weather and/or planned maintenance.
To access the marina on an access lock or during the "free flow" period, please contact "Pier Head" when approaching the lock gates. Do not enter the lock unless instructed by Pier Head and practice lock etiquette throughout the lock process.
If this is your first time visiting Milford Marina, it is important that you familiarise yourself with the lock operation and read the full guidance on accessing the marina before your visit.
If you require a berth, this will be allocated to you on arrival by "Pier Head" or "Marina Control" (VHF Ch.37, call sign: Marina Control, Tel: +44 (0)1646 696312). To avoid disappointment, we recommend contacting Marina Control 24 hours before your intended arrival date to confirm our berth availability, this is applicable for both long term and visitor berths.
The open lock gate will close on the published access/exit time, please leave enough time if you've booked to use the fuelling facilities before an exit lock and ensure all outstanding charges are settled prior to departure.
To book an exit lock, please contact Pier Head or Marina Control. Please note, a minimum of one hours' notice is required before the requested exit time.
Milford Marina's holding pontoon, the "Mackerel Stage" is located immediately east outside the lock gates. Berth holders and visitors to the marina are welcome to use the pontoon when waiting for the next access lock, vessels should not be left unattended. (Pontoon available April – October).
We look forward to welcoming you to Milford Marina!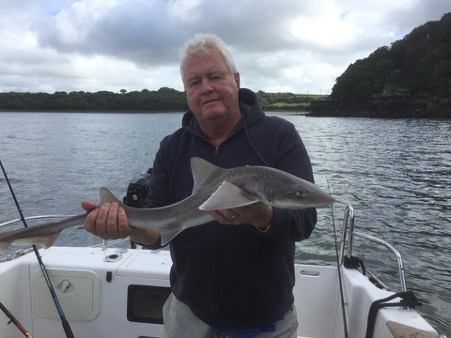 The best move I made last year was taking out an annual berth contract at Milford Marina. I pay monthly by direct debit and find it very affordable. All the facilities are spotless. WiFi, security and discounts to marina shopping included. I feel it's like a community on its own, with many great characters, all helping each other when needed. I use my boat all year round. Winter or Summer the Marina runs like clockwork. The staff are brilliant. From the staff in the office, the lock guys and the lads that make the place tick, they make sure I'm happy. I have changed my berth a couple of times, and they have gone out of their way to accommodate me. I find locking in and out effortless, with lock times published well in advance. I either phone them up or call them on channel 14. My wife Nicola loves the shops on the Marina, while I'm pottering about on the boat, she visits most of them! Everything is so well laid out. The cafes and restaurants are second to none, we have had many meals there and can recommend them all. I can highly recommend Milford Marina.