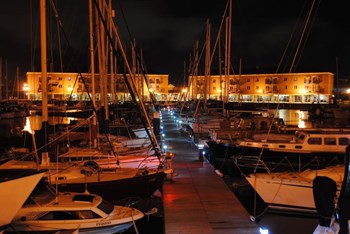 Milford Marina has once again been awarded four Gold Anchors - a prestigious award given by The Yacht Harbour Association (TYHA) in recognition of the excellent operational standards, high level of customer service and quality facilities offered to local and visiting boat owners.  
Owned and operated by the Port of Milford Haven, Milford Marina has recently undergone improvement works including replacement decking; the installation, re-wiring and connection of new bollards; new, automatic LED lighting; new safety ladders and SOS points.  
In readiness for the start of this year's boating season, the team have been busy installing free Wi-Fi, planning a programme of events for berth holders and partnering with other marinas to offer discounts for those who want to travel around different locations.
Commenting on the achievement Kevin Hobbs, Short Sea Director for the Port of Milford Haven, said: "This is the third time we've been awarded four gold anchors.  What that demonstrates to our customers is that we're consistently providing a quality facility coupled with excellent customer service.  That is testament to the hard work put in by all of our staff who strive to continually improve the offering and level of service to existing and new customers".
The Port of Milford Haven is also planning an exciting development costing in excess of £60 million that will create a new waterfront destination in Milford Haven, Pembrokeshire.  As part of this, Milford Marina is set to undergo a massive transformation. 
Kevin added: "We're extremely excited about our plans for the future.  Berth holders will benefit from additional on-shore attractions, first rate facilities and a further choice of berthing locations.  We also expect to attract additional visitors to this stunning part of West Wales".
TYHA Assessor, Gareth Turnbull says "There are some great services on offer at Milford Marina, particularly the positive customer service that the marina team provide.  It was a pleasure to assess them and they deserve their four Gold Anchors".
The Gold Anchor scheme is a voluntary assessment programme which is focussed on customer service and providing quality berths for the boat owner.  Ratings range from one to five Gold Anchors and provide assurance of quality and credibility of the marina.  Qualifying technical criteria is based on TYHA's Code of Practice for the Construction and Operation of Marina and Yacht Harbours. For further information visit www.tyha.co.uk
-END-
Photo Caption: New lighting illuminates Milford Marina at night (photo credit - Mark West)
Notes to Editors:
Milford Marina 
Milford Marina provides 328 marina berths and is one of Wales' top marinas.  Situated in a non-tidal basin within the UK's only coastal National Park, Milford Marina is the ideal berthing base for those wanting to explore the fabulous coastline that Pembrokeshire and Wales has to offer.
Continued investment means that Milford Marina provides safe, secure and sheltered boat berths in the heart of Pembrokeshire, Wales. There is also an expanding array of shops, restaurants and specialist marine facilities right on the Marina quayside.  Find out more about Milford Marina at www.milfordmarina.com
Milford Marina is set to undergo a massive transformation as part of the Port of Milford Haven's Milford Dock Master Plan.  This exciting plan, costing in excess of £60 million, will create a new waterfront destination - enhancing the leisure, entertainment and retail offerings to increase the number of visitors and boost economic activity across the town.  Further information about the plan can be found at www.consultation.mhpa.co.uk. 
Port of Milford Haven 
The Port of Milford Haven is responsible for the biggest port in Wales, and is the third largest port in the UK.  Each year it handles around 29% of Britain's seaborne trade in oil and gas and is widely recognised in the industry as the energy capital of the UK.
The Port, along with the cluster of energy-related businesses along the Waterway, is a key driver of economic activity in Pembrokeshire, attracting inward investment and supporting over 4,000 jobs.
The Port of Milford Haven also owns and operates Pembroke Port and Milford Dock.  Activities such as cargo handling, ferry operations, fish landing and cruise calls as well as a first class marina are spread across these two sites. 
One of the most prominent on the West Coast, the Port is in the heart of the Pembrokeshire Coast National Park, the only Coastal National Park in Great Britain. It is marked as a Special Area of Conservation (SAC) and has many areas designated as Sites of Special Scientific Interest (SSSI).
The Port of Milford Haven is a trust port – an independent, commercially run organisation that has statutory responsibilities governed by its Acts, to maintain and improve navigation and the provision of Port and Harbour services and facilities.  Additionally, the Port provides significant financial and in-kind support to a wide variety of local causes.  All profits are retained within the business to fund these objectives. 
For further information, visit www.mhpa.co.uk or contact:
Anna Malloy 
Port of Milford Haven 
01646 696100 
anna.malloy@mhpa.co.uk