Congratulations to Hayden Westcott for winning our July Photo of the Month competition with his image titled "Road to Paradise".
Each month we encourage berth holders, visitors and keen photographers of all standards to enter their photographs into our Photo of the Month competition, with entries capturing the spirit of the Milford Haven Waterway, including the scenery, wildlife, coastline and sunsets, the boating community, and Milford Marina itself.
Whilst at Milford Waterfront (one of Hayden's favourite photography spots), Hayden noticed the sun had created an unusual glare on his camera leading from Milford Marina right up to the skies.
With everything going on during this difficult period, Hayden wanted his photo to be a positive message that there's always light at the end of the tunnel.
With an impressive 71 votes, Hayden's sunset shots have proven to be a hit with the public by winning two months in a row, well done Hayden!
Our August competition is open, so why not share some of your favourite summer shots with us. For your chance to win a voucher to spend at any Milford Waterfront business, upload your photo from your computer, mobile or straight from your Instagram account to our website.
Check out our competition page to view all of our entries and vote for your favourite photo, good luck everyone!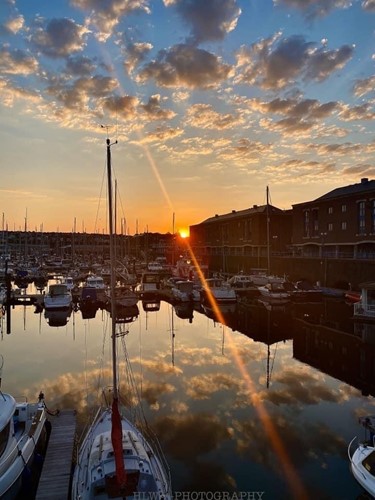 2020 Photo of the Month Winners
Check out the gallery featuring the winning photos from 2020.
Be the envy of your friends
Enter our Photo of the Month competition to be in with a chance of winning a voucher to spend at Milford Waterfront!