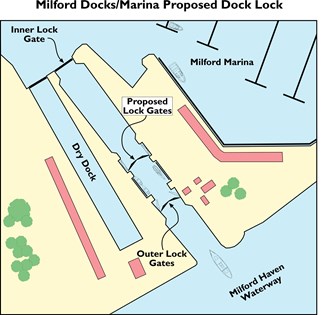 An exciting new £5 million project, which will secure Milford Haven's future as a top sailing destination, has been announced. 
New lock gates are to be designed and installed at Milford Marina over the next two years, transforming the way the Marina can be accessed and boosting marine tourism and business in Milford Haven.
The development is part of Visit Wales' Coastal Tourism Project, part funded by the European Regional Development Fund through the Welsh Government, to encourage tourism along the Welsh coastline.
Andrew Brown, Engineering Director at Milford Haven Port Authority (MHPA) said: "At the moment berth holders just can't access and exit as much as they'd like. Our plans will reduce the locking time and make Milford Marina one of the most accessible locked marinas anywhere in Britain. From an engineering point of view this is an exciting project since the introduction of a completely new set of lock gates is a rare occurrence in British docks."
The move is part of a major investment undertaken by the Port Authority to make Milford Marina one of the top marine leisure destinations. The announcement of funding comes during the 20th anniversary of Milford Marina and reflects the confidence that Milford Haven Port Authority has for the future of Milford Docks.
Minister for European Programmes, Alun Davies AM, said: "This demonstrates how through partnership working we can maximise our resources to deliver a range of schemes and provide first class facilities to improve the visitor experience of our outstanding coast and help showcase what Wales has to offer to visitors."
The new lock gates, which will be constructed inside the existing lock, will offer sailors a 24 hour locking service compared to the limited current access. The new lock facility is due to be completed before December 2013.
"Leisure sailors tell us the Haven is already quite simply one of the best places to sail in Europe." said Nathan Hewitt of Pembrokeshire Marine Group, which manages the Marina in partnership with MHPA.
"What this new full width lock does is to hugely improve access to the excellent facilities at the Marina. This is a benefit not only to visiting sailors and commercial users but also the hundreds of boaters who use the waterway.  With more visitors to the Marina the local Pembrokeshire economy will benefit too."
The Coastal Tourism project will implement key elements of the coastal tourism strategy with a focus on Green Sea and coastal water sports and recreation activity. Three Coastal Centres of Excellence (in Aberdaron, Pembrokeshire and Swansea Bay), and Green Sea Partnership will bring together these key elements whilst delivering comprehensive and exciting projects.
The Pembrokeshire Coastal Tourism Centre of Excellence, led by Pembrokeshire County Council, will deliver high quality facilities to enable visitors of all abilities to access and enjoy the coastline all year round. MHPA is one of four delivery partners who will deliver a total of eight individual ventures around the county's coastline.
-Ends-

Notes to Editors:
For more information please contact Rachel Hicks or Amy Jackson at Radiant Media on 01646 650195 or 07917 773756 or email pressoffice@radiantmedia.co.uk

The graphic depicts the new lock gates.
Background
Advantages:
• Less water to move so reduced lock time
• Not reliant on older inner gate
• Ability to offer full 24 hour lock programme
• Still able to accommodate commercial vessels by retaining full width access
Estimated gross cost of project is £5.5 million including improvements to access channel into lock. This includes £800,000 from ERDF through Visit Wales and the Welsh Government.
The current programme is for all site investigation and design work to be completed over the next 12 months with the site work being carried out throughout 2013. The construction contract will include specific reference to the need to minimise any disruption to the existing lock operation.
Upon completion, a 24 hour programme of locking will be able to be introduced with throughput, even on spring times, taking no longer than 30 minutes.

Milford Haven Port Authority
Milford Haven Port Authority is responsible for the biggest port in Wales, and the third largest port in the UK, handling over 65m gross tons of shipping which amounted to nearly 43m tonnes cargo during 2010.
Two Liquefied Natural Gas (LNG) facilities on its shores mean that a potential 30% of the UK's gas requirements will be processed through the Port.  With 25% of the UK's petrol and diesel provisions already being handled on the Waterway, Milford Haven is fast becoming the new energy capital of the UK.
Milford Haven Port Authority is a trust port –an independent, commercially run organisation that has statutory responsibilities governed by its Acts, to maintain and improve navigation and the provision of Port and Harbour services and facilities.  All profits are retained within the Authority to fund these objectives.

Milford Marina
Milford Marina is owned by Milford Haven Port Authority. It is situated in a non-tidal basin within the UK's only coastal National Park and provides convenient access to Milford Haven's 23 miles of sheltered waters. 

Milford Marina provides 328 safe, secure and sheltered berths in the heart of Pembrokeshire. It offers the latest security systems, strictly controlled pontoon access and first class facilities, as well as an expanding array of shops and restaurants.

Pembrokeshire Marine Group
A partnership between Milford Haven Port Authority and Cardiff Marine Group, Pembrokeshire Marine Group is responsible for the management of Milford Marina under the terms of a long-term management agreement, however the marina remains wholly owned by Milford Haven Port Authority.