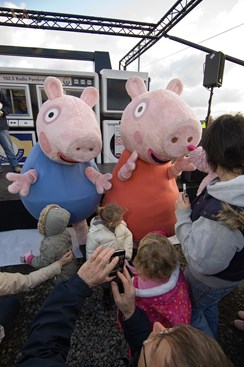 On Saturday 17 December, families from across Pembrokeshire flocked to Milford Marina to enjoy the festivities of Milford's Christmas Cracker where star attractions Peppa Pig and George - the famous children's TV Characters, made numerous appearances throughout the day.
Hosted by Milford Haven Port and supported by Radio Pembrokeshire, the event proved extremely successful. Shoppers were entertained by a number of different acts including: The Goodwick Brass Band; The Landsker Singers of Pembrokeshire; Louise Hales (singer); Mary Jane (singer), Phil the Magician, Samba Doc and the West Wales Academy of Dance. Queues of children also formed outside Twilight Bookshop all afternoon to visit Santa's Grotto and have their faces painted.
Working collaboratively to raise the profile of the marina, Milford Haven Port and the traders at Milford Marina were able to offer visitors an enriched festive shopping experience, with many of the retailers offering special discounts on the day. One retailer commented "the event was enjoyed and appreciated by all our customers and was our best day's sales since August".
Commenting on behalf of Milford Haven Port, Development and Property Manager, Jeff Teague, said "Saturday was a great opportunity for us to showcase the Marina and let people enjoy some festive fun. We're delighted it was such an enjoyable and successful day and hope to continue with this collaborative working throughout 2012".
-Ends-
For further information contact Anna Malloy on 01646 696100 or anna.malloy@mhpa.co.uk