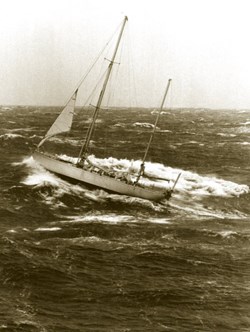 Crowds turned out to greet world-famous yacht Gipsy Moth IV as she berthed at Milford Marina on 2 August.
Over these next nine days, people in Pembrokeshire are being offered the chance to sail on the historic vessel in aid of the Gipsy Moth Trust, which preserves her history and promotes charitable activities.
Mayor Guy Woodham and Alec Don, chief executive at Milford Haven Port, were among the first passengers from Pembrokeshire to sail aboard the classic yacht, under the expert guidance of Skipper Simon Bradley.
Gipsy Moth IV set a series of records during Sir Francis Chichester's circumnavigation of the globe in 1967 including; the fastest round-the-world voyage by a small vessel, the longest non-stop passage by a small vessel and the then longest single-handed passage. 
Eileen Skinner, Founder Trustee of the Gipsy Moth Trust, said: "We hope her visit will help inspire young people with the same sense of adventure and determination to achieve as Sir Francis Chichester."
To book full day or half day sails up to 11 August from Milford Marina, please contact Marina Control on 01646 696312.  For further information, on the Gipsy Moth Trust please visit www.gipsymoth.org.
-Ends-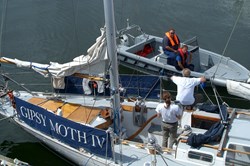 Photo captions:
1. Gipsy Moth IV rounding Cape Horn during her first 'one stop' solo-circumnavigation in 1967, with Sir Francis Chichester as Skipper.  Photo copyright Gipsy Moth Trust, photo credit Sunday Times/Chichester Archive/PPL
2. Gipsy Moth IV in Milford Marina on 2 August, offering sailings to the people of Pembrokeshire until 11 August.  Photo credit: Justin Griffiths

Notes to Editors:
Milford Haven Port Authority 
Milford Haven Port Authority is responsible for the biggest port in Wales, and the third largest port in the UK, handling over 71m gross tons of shipping which amounted to nearly 49m tonnes of cargo during 2011. One of the most prominent on the West Coast, it is in the heart of the Pembrokeshire Coast National Park, the only Coastal National Park in Great Britain.
Two Liquefied Natural Gas (LNG) facilities on its shores mean that a potential 30% of the UK's gas requirements will be processed through the Port.  With 25% of the UK's petrol and diesel provisions already being handled on the Waterway, Milford Haven is emerging as the new energy capital of the UK.
Milford Haven Port Authority is a trust port – an independent, commercially run organisation that has statutory responsibilities governed by its Acts, to maintain and improve navigation and the provision of Port and Harbour services and facilities.  All profits are retained within the Authority to fund these objectives. 
For further information, visit www.mhpa.co.uk or contact:
Diana Harries 
Milford Haven Port Authority 
01646 696100 
diana.harries@mhpa.co.uk