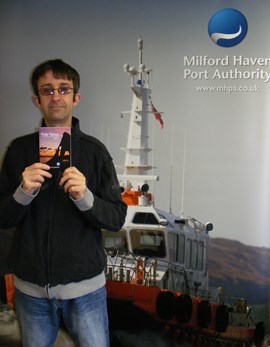 2012 Tide Tables for the Port of Milford Haven, published by Milford Haven Port Authority (MHPA), are now available for purchase.
Members of the public wishing to purchase a copy can do so by calling into MHPA offices at Gorsewood Drive, Hakin, Milford Haven or from local newsagents Milford News, Milford Haven; Robinsons News Agents, Pembroke or Albion Stores, Pembroke Dock. The cost remains £1.50, as last year.
The front cover of this year's Tide Tables features the winning image from a recent photo competition run by Milford Haven Port, where keen photographers were asked to submit images that represented the Milford Haven Waterway.  Competition winner Jason Davies, from Milford Haven, submitted his image of the Fisherman's Tribute in Milford Haven.  Judges of the competition felt that not only is it a fantastic image, but that it recognises the Port's beginning as a fishing port and reminds us that it continues to be the largest fishing port in Wales – an excellent representation of the Milford Haven Waterway.
-Ends-

Photo caption: Photo competition winner Jason Davies with 2012 Tide Tables for the Port of Milford Haven.
Notes to Editors:

Milford Haven Port Authority
Milford Haven Port Authority is responsible for the biggest port in Wales, and the third largest port in the UK, handling over 65m gross tons of shipping which amounted to nearly 43m tonnes of cargo during 2010. One of the most prominent on the West Coast, it is in the heart of the Pembrokeshire Coast National Park, the only Coastal National Park in Great Britain.
Two Liquefied Natural Gas (LNG) facilities on its shores mean that a potential 30% of the UK's gas requirements will be processed through the Port.  With 25% of the UK's petrol and diesel provisions already being handled on the Waterway, Milford Haven is emerging as the new energy capital of the UK.
Milford Haven Port Authority is a trust port –an independent, commercially run organisation that has statutory responsibilities governed by its Acts, to maintain and improve navigation and the provision of Port and Harbour services and facilities.  All profits are retained within the Authority to fund these objectives. 
For further information, visit www.mhpa.co.uk or contact:
Anna Malloy
Milford Haven Port Authority
01646 696100
anna.malloy@mhpa.co.uk